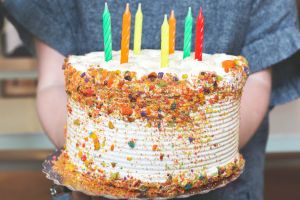 Consider having a home birthday party if your child's birthday is approaching. To some, this may seem old school, but having a home birthday party for your child can provide several benefits.
Dr. Tovah P. Klein, Director of the Barnard College Center for Toddler Development and author of "How Toddlers Thrive." is an advocate for home birthday parties. He says, "Children can have fun in a familiar, safe, and comfortable environment, and parents can keep an eye on the festivities to make sure everyone stays safe and has a good time."
There are other good reasons to have a home birthday party.
Home parties can be cost-effective as you can plan and execute the party at your house rather than paying for a venue. A home birthday party can also give you more control over the budget and allow you to personalize the party to your child's specific interests and tastes.
A home party can provide comfort and familiarity for the birthday child and their guests. This can create a relaxed and enjoyable atmosphere, making it easier for the kids to have fun and feel at ease.
Home parties allow for more flexibility in terms of timing and activities. You can plan the party around your child's and his friend's schedule and interests and include games, crafts, and other activities that you know they will enjoy. This can make the party more engaging and memorable for the kids and make it possible to schedule the party when his closest friends can attend.
Finally, having a home birthday party can foster a sense of community and family among the guests. Inviting friends and family to celebrate in your home can create a sense of intimacy and closeness that might not be possible at a commercial venue. This can make the party more meaningful and memorable for everyone involved.
When it comes to entertainment, hiring a magician to entertain at a children's home birthday party can be a great idea.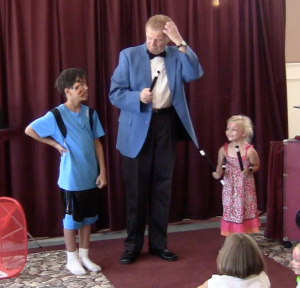 A magician can help to create a festive and exciting atmosphere at the party. With magic tricks and illusions, a magician can capture children's attention and keep them engaged and entertained throughout the event. This is especially helpful if the party is in a small indoor space or the weather doesn't permit outdoor activities.
Magic is a unique form of entertainment that is different from the typical activities and games often found at children's birthday parties, adding an element of surprise and excitement to the party and making it stand out from other parties that the children have attended.
A magician can provide a fun and interactive experience for children, often involving them in magic tricks and making them feel like they are a part of the show. This helps to make the party more memorable.
Finally, a magician can be a great addition to a party as they can entertain children while allowing parents and guardians to relax and enjoy the party with their children.
Hiring a magician to entertain at a children's home birthday party can be a great idea. It can provide unique and exciting entertainment, keep the children entertained, create an interactive and memorable experience for the children, and give parents a break.