So, The Silly Magician, AKA Santa, is now Reverend Mike too. No, I don't hear confessions or provide absolution. And I haven't installed pews in the family room or converted the house into a church. But, I have been ordained by the Universal Life Church so that I can officiate weddings. And I performed my first wedding this past Saturday. It was a truly magical affair. That's because, in addition to doing all that is necessary to marry the couple legally, I also performed magic.
Before the wedding, I met with the couple to discuss their unique needs. We discussed the vows, and venue, and the fact that the marriage was to be a surprise for the guests. On the big day, I provided a PA system so attendees could hear the vows and the 'Wedding March' once I pronounced the couple husband and wife. Before donning my robe, I mingled with guests and did some strolling magic. Then, I called the group to order at the right moment, and the ceremony began to the surprise and cheers of the guests.
Here's what the bride wrote in a review.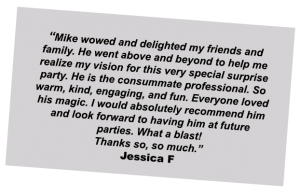 If you are looking for a very magical wedding, call me. We'll work together to create a unique and truly magical day that people will be talking about for years to come.