Birthday Party Tips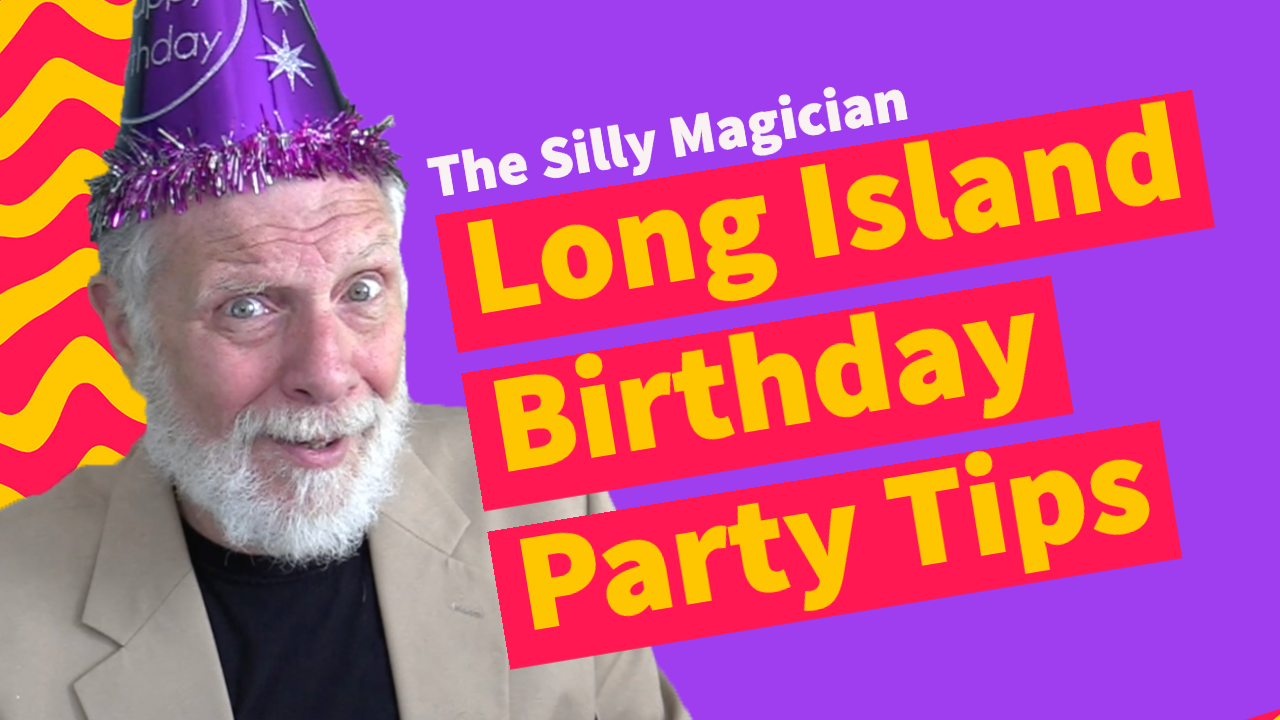 Having raised three kids on Long Island, my wife and I celebrated birthdays with parties, and our parties were at home and always a big hit. Between my experience creating parties for my now-grown kids and my experience as a Long Island birthday party magician for more than 25 years, I've collected some great tips that I want to share with you. Click on the image above to see a short presentation of the seven tips I learned the hard way.
Number 1 – Plan for activities to Take Less Time
The birthday party you are planning will probably be a couple of hours long, and you need to fill the time with activities, or you'll have a madhouse. Whatever activity you plan for the kids to do during the party, expect it to take half the time you think it will before the kids are ready to move on to something else. So, have extra activities ready just in case.
Number 2 – Name Tags
Make name tags for all the guests or have the kids make their own as one of the activities. Name tags will help when it comes time for you to get someone's attention. You won't have to say, "Hey you. Stop jumping on the couch."
Number  3 – Picture Time
Make sure your smartphone is fully charged and ready to take lots of photos. Put an adult or teen in charge of photo taking. You'll be too busy. Have some funny hats, sunglasses, or other silly items on hand for the kids to wear for pictures. Instant photos make great souvenirs. There are many cameras on the market today that make prints instantly. Prices start at about $60.
Number 4 – Put Fido Away
Keep pets out of the party area. Lots of little kids are afraid of dogs, huge ones. And while your dog may usually be amiable, he may get agitated with lots of company in the house or with a child who is curious to see what happens if he tugs on the dog's tail. Keep pets out of the way, and you won't have to worry about bites, barks, scratches, or lawsuits.
Number 5 – Balloons
What's a party without balloons? Latex helium-filled balloons are the quickest way to make a room festive. But keep in mind that broken or deflated balloons injure young children every year. You can read the Consumer Product Safety Commission warning here. Have a rule to keep your Long Island birthday party safe: If a balloon deflates or is broken throw it out immediately.
Number 6 – Enlist Some Help
No matter what size your party is, it's good to have help. Don't be afraid to ask an adult guest to take coats, help in the kitchen or help with activities. If you have the budget, hire the babysitter or a neighborhood teen to help out. They can help with activities while you deal with other things. And they can help later with clean-up.
Number 7 – Hire Age Appropriate Entertainment
If you are planning to hire entertainment for your Long Island birthday party, make sure it's suitable for the age of the guests. I can't tell you how often I have been asked to perform magic for a group of 2 and 3-year-olds, and I tell the parents to wait until the children are four and up for a magic party. Balloon twisters and face painters are better for kids under four years old. Be careful with costumed characters and clowns; they can scare very young children. Of course, if you want a great Long Island birthday party magician and the kids are four years old and up, you can't go wrong with The Silly Magiican.
Number 8 – Make it a Family Affair
According to www.kidsinthehouse.com doing family, projects teaches kids to be creative on their own and skills that will be helpful for the rest of their lives. So, instead of doing all the work to prepare for the party yourself, turn party preparations into a family project. Not only will you have less work to do, but your children will also develop skills and feel that they helped make the party a success.
Number 9 – Plan for it to Take More Time
According to Ivy Wigmore at whatis.com Hofstadter's law is the observation that "It always takes longer than you expect, even when you take into account Hofstadter's Law." In other words, even when you take into consideration that it will take longer and plan accordingly, it still takes longer. So, as you estimate how much time you need to prepare for the party, consider my rule of thumb to figure out what it should take, then double it.
Number 10 – Make a Schedule
It is much easier to find 15 minutes every night than to do everything the night before the party, so start preparations early. Plenty of party planning resources are available online that provide a schedule to help you get it all done before the big day. Megan Cooley put a comprehensive schedule together. Check it out; click here.
Number 11 – Shop Smart
Before heading out to the store, please make a list of things you need and where to get them. For a Long Island birthday party, you can find lots of supplies at Cedarhurst Paper and Party City. If you have a Dollar Tree nearby, check it out. They have lots of inexpensive party supplies. Online, try the Oriental Trading Company and Amazon.
Number 12 – Organize the Party Room
Part of the secret of a well-organized party is a well-organized party area. Make sure the area is clean and safe. And that you have everything you need handy. Also, will you need to move the couch to make more room for activities? If so, save yourself some embarrassment and do it before the guests arrive. You'll be surprised what you find under the couch.
Number 13 – Right Height Furnishings
Think about the height of furniture for kids. For making crafts with kids under five years old, consider placing folding tables (or a sheet of plywood) on milk crates. You can have the kids sit right on the floor. Or, you might want to buy or borrow some kid-size chairs. Little plastic outdoor chairs cost about $7 each at Walmart.
Number 14 – The Trash
Save yourself a lot of clean-up later and have at least two trash bins in the party area. That will keep the room a lot neater. Guests can clean up after themselves. And when presents are opened, the wrappings can be quickly discarded.
Number 15 – A Place for Presents
Decorate a large box or set up a card table near the entry door. Have the guests put gifts there as they arrive. Later, as the gifts are opened, put them right back in the box.
Number 16 – Keep a Record
You'll want your child to remember to thank each guest for the gift they gave later. It's easy to forget who gave what, so have an adult write down what each gift is as they are opened and who gave it.
Number 17 – Spills
You can expect at least one spill. Have paper towels or cloths handy in several places, ready to do a quick pick up.
Number 18 – Create a Guestlist
Be realistic about how many guests you can accommodate. Sit down with your child and ask them who they want at their party. You might not be able to invite the whole class. Instead, invite all the girls or boys from your child's class. But please don't exclude just a few from the class. Kids' feelings get hurt easily.
Number 19 – Invite Electronically
Technology makes it simple to invite and keep track of your attendees if you have email addresses. Evite.com offers very nice free invitations. At the beginning of the year, most schools ask the class mother to ask parents for permission to list their contact information. Get hold of the list. Be sure to include an RSVP email address and telephone number. Expect to follow up with those who don't respond. You'll be amazed how often people forget.
Number 20 – Set the Mood with Music
Choose music that suits the party and your guests. If time permits, make your playlist in advance or use one of the music services that play tunes based on genres, decades, or musicians. Pandora has lots of collections that are just right for every age group. Check out Toddler Radio which plays my favorite Baby Shark.
Number 21 – The Party is Here
Your guests' parents will love you if you make it evident from the street where the party is. Put a yard sign out front or attach a few helium-inflated balloons to your mailbox, fence, or a stake in the front lawn. Colorful balloons will make it clear where the party is.